Table of Contents
The wpc wall panels from HOSUNG WPC are inseparable from the architecture.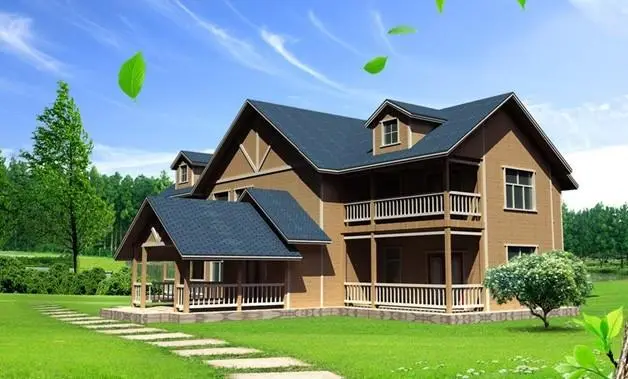 WPC wall panels also called wpc wall siding in HOSUNG WPC is inseparable from architecture. Because of the felling of trees, mining, and oil extraction caused by construction, global environmental pollution has been generated, and various garbage has surrounded the city. The material industry has been developing a new type of renewable and recyclable material to partially replace wpc wall panels, cement, and steel to build houses. The wpc outdoor wall panel material is the fifth most considerable primary raw material.wpc wall panels-plastic composite materials are processed into various profiles through extrusion molding. The shapes can be provided with the required grooves as plug-in columns and can be made into solid or hollow panels as wall panels. Therefore, plastic-wpc wall panel materials are used to construct plug-in assemblies. Superficial or temporary housing can give full play to its strengths and build temporary housing for earthquake relief, kiosks, sentry boxes, brief workshops, mobile toilets, beach swimming pool changing rooms or tool rooms, and military field activities.
WPC wall panel installation adopts a plug-in assembly structure
Plastic-wpc wall panels houses often adopt a plug-in assembly structure,which can be disassembled repeatedly,so some call it a mobile house,and it can also be built into a relatively fixed one according to needs,such as a kiosk,sentry box,etc.Most of the construction work is done in the factory.The on-site installation is straightforward and does not require high operating skills.A simple plastic-wpc wall panels house can be built in less than a day,so it is especially suitable for emergencies like war,disaster relief,etc.In addition to temporary housing for temporary construction sites in foreign wpc wall panels composite wpc houses,it also includes commercial office buildings,shops,and laboratories;industrial plants;schools,kindergartens,nursing homes,and hospitals for public buildings;Tourist villas,motels,hotels,restaurants used in the tourism industry;residential houses used in the traditional construction industry,etc.
At present,domestic plastic-wpc wall panels integrated houses are gradually being recognized.Many development zones,real estate developers,tourist attractions,new rural construction,and individuals have considered this a very advantageous product.Rapidly promoting integrated houses has become a new trend in this century—a highlight in materials and construction.The integrated houses in the future will make full use of solar energy,wind energy,and geothermal energy to form truly self-sufficient,green,and environmentally friendly houses.As long as the wpc wall panels-plastic prefabricated houses pass the strict construction quality acceptance inspection,the performance indicators are similar to those of reinforced concrete frame structures and brick-concrete structures.In particular,the unique advantages of wpc wall panels-plastic materials,such as lightweight,high-strength heat insulation,enable wpc outdoor wall panel houses to withstand significant earthquakes above 8 degrees,not be damaged by small earthquakes,and not collapse by substantial earthquakes.Even if the house collapses,it will not endanger life.This kind of wpc wall panels-plastic house meets the technical requirements of national housing industrialization.The roof,walls,doors,windows,and floors are all parts and components made in the factory,and they can be assembled on-site when transported to the construction site.It is significantly shortened,and the comprehensive saving cost is also very considerable.
Prefabricated buildings use factory-prefabricated components as building materials and are built using the construction mode of on-site installation.It has the advantages of a simple construction process and short construction period and meets the development requirements of green buildings. Split the small-scale prefabricated plastic-wpc wall panels building structure into beam-column units, wall units, and roof units,research the connection nodes inside and between the three modules,design the building appearance that adapts to the structural system,and explore small areas.It is feasible for 1~2 non-professionals to complete the independent construction according to the installation drawings quickly.It is mainly for single-story buildings,temporary or small and medium-sized buildings,buildings requiring disassembly and reinstallation,and buildings with low requirements on the building's thermal environment,such as tool rooms,guard rooms,and kiosks in scenic spots.The appearance of these buildings will be designed separately below.
The appearance design of the wpc wall cladding composite wpc room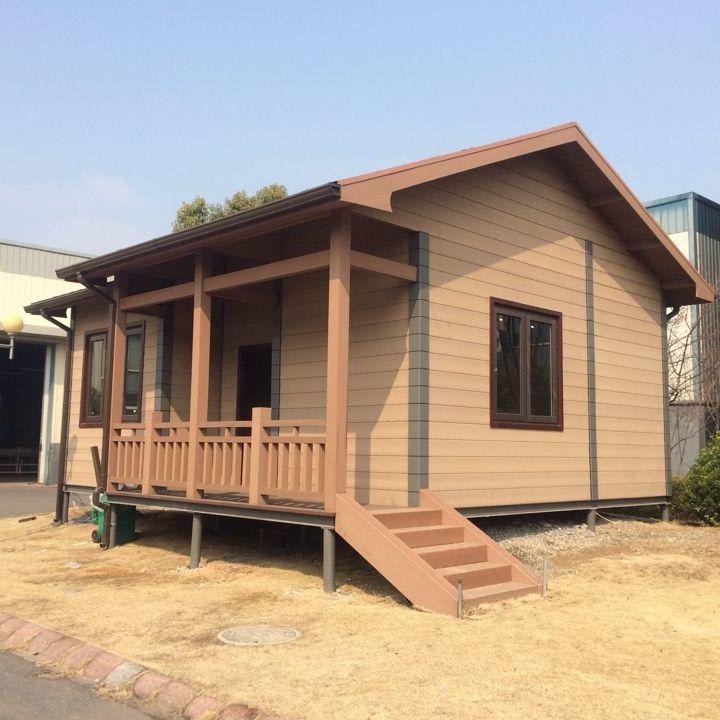 The primary use location of the fluted wall panel composite wpc hut in the tool room is the courtyard of the family villa or a corner of a large office building. Its area should be manageable, and the appearance design should be simple. Otherwise, it will affect the coordination with the main building. Therefore, for this type of building, the indoor area is set to 4m×2.8m to meet the essential tool placement function. In the design of the building facade, the primary decorative materials are light wpc wall panels-colored fluted wall panel exterior wall panels, and aluminum-plastic co-extruded beams and columns wrapped in plastic-wpc wall panels and are decorated with vertical and horizontal glass windows, reflecting the modernist design style; The roof is designed as a single-slope roof paved with asphalt tile modules, which is simple in shape and easy to drain. Appearance Design of fluted wall panel Guard Room, The central location of the guard room is the gate of scenic spots or enterprises.
Compared with the tool room, its area is relatively enlarged to meet the simultaneous use of 2~3 people, and the appearance design also needs to be to a certain degree. It reflects the grade of the user. Therefore, set its indoor area as 4.8m×4m.In the exterior design of the building, dark fluted wall panel wall cladding suppliers wall panels and aluminum-plastic co-extruded beams and columns wrapped in wpc wall panels composite wpc are used as the main facade decoration, with European-style wpc wall cladding square windows for embellishment. Through the overhanging eaves design of the double-slope roof, a 1m corridor is protruded to both sides. The four corners of the hall are supported by wpc wall panel columns, which are convenient for standing guard and patrolling on rainy days and play a specific decorative role. The combination also reflects the development direction of the green building of wall-cladding suppliers' huts.
WPC wall panels for Scenic kiosk design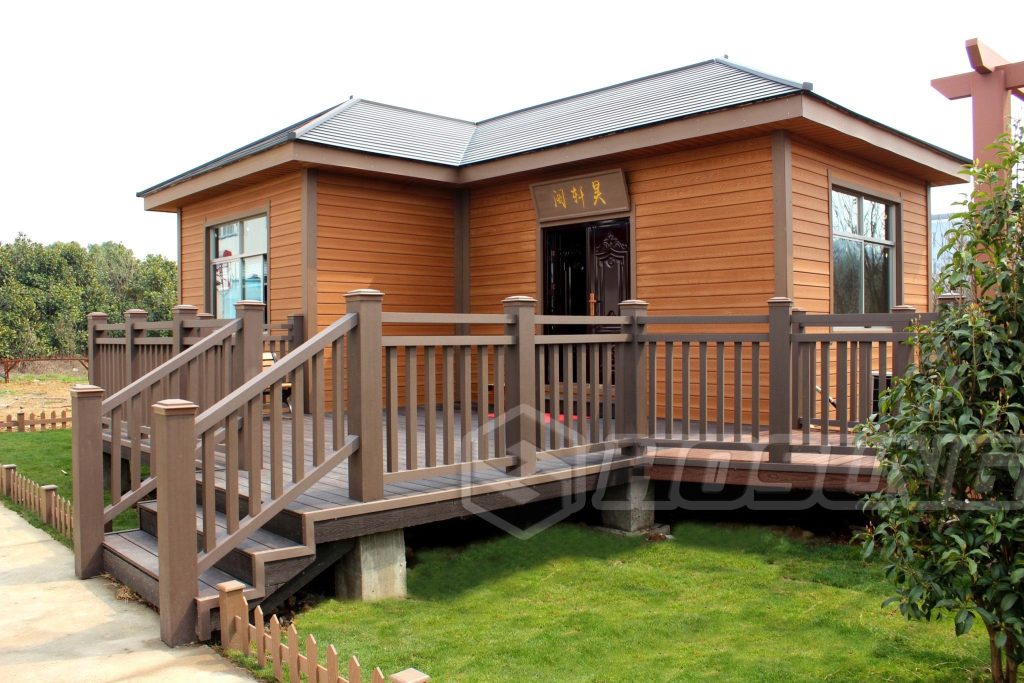 The appearance design of the kiosk in the scenic spot needs to attract crowds and stimulate customers' desire to buy, and the area setting needs to meet the essential traffic of the scenic spot. Therefore, its usable area is set to 6 m×4 m. The facade design of the building is mainly made of fluted wall panels, with pure white plastic-wpc wall panels as interval embellishments, reflecting the richness of wall cladding suppliers' materials, and then using gray metal frame doors and windows of different sizes on each facade to enhance The overall transparency of the building. In the roof design, based on the double-slope roof,the front overhanging eaves are 1m,and the rear overhanging eaves extend to cover the entire rear facade of the building to enhance the visual impact of the building and attract tourists' attention.Compared with wall cladding suppliers houses, PVC panels for exterior wall houses are easy to build, fast, and can be disassembled and reused. They are also convenient for wiring, not afraid of termites, and rats, have no paint, have wpc outdoor wall panel saving, environmental protection, water resistance, and moisture resistance, and are cost-effective. Advanced advantages. Compared with the light steel structure, it has the benefits of thermal insulation, corrosion resistance, no rust, and convenient wiring.
The characteristics of wpc outdoor wall panel houses show that this new-structure house has a broad development prospect. Various wpc wall cladding dwellings have been developed at home and abroad. It is believed that new-type plastic-wpc wall panels in mobile places will soon become a new construction fashion.
WPC wall panel factory
HOSUNG WPC Group was established in 2012. the main products: wpc outdoor wall panel, wpc decking, and other building material supplies. The company passed the FSC / COC forest management system certification and has its own quality control systems, detection center, and strict product quality control. Companies based on environmental protection to safeguard the interests of consumers' health as its mission, the first by the China Environmental product certification mark, green products have reached the national standard and superior.
wpc wall panel price & pvc panel for exterior
Showing 1–12 of 35 results
WPC 3d wall panel video
More wpc wall panel, visit:

Focused on WPC production, selling, designing and developing.
Leave us your info and get latest product quotation from our specialist.