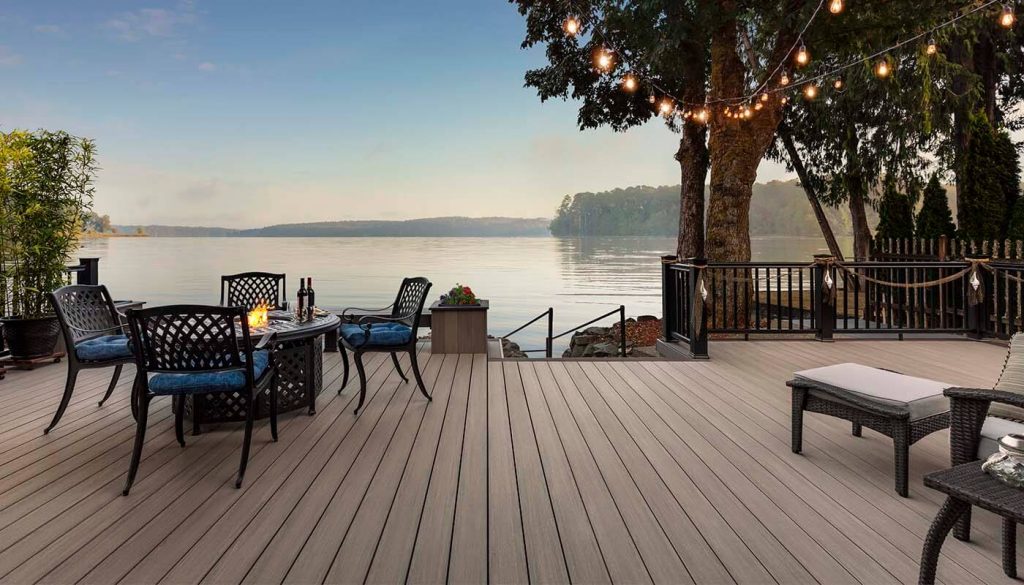 Compared with traditional wood decking, one of the best advantages of composite decking is that it requires low maintenance and is easier to clean. However, low maintenance doesn't mean that it's totally maintenance-free. Generally, you should at least thoroughly clean your composite wood decking 2 times every year. Proper cleaning will help the WPC composite decking maintain its beauty and neatness, extend the life of the decking, as well as improve the slip resistance and safety of the decking.
The process of cleaning composite decking differs from that of cleaning wood decking. Wood plastic composite decking is a composite material made of HDPE plastic and wood fibers that will not respond well to harsh chemicals or abrasive scrubbers, so it is very important to know how to do the job correctly.
Our complete guide will show you how to clean your composite decking thoroughly, without causing any damage.
Remove All Things From the Composite Decking

Remove all things away from your composite wood decking
First, remove your outdoor furniture, pots, planters, doormats, and the barbecue. Then sweep your composite deck with a soft-bristled brush to remove loose debris, such as grass cuttings, fallen leaves, and twigs, trying to get in the gaps as much as possible.
If needed, use a scraper or putty knife to remove any dirt trapped between the boards. Just be careful not to scratch the surface of the composite. You can also spray the area with a hose to remove debris but use gentle pressure.
Clean Deck Railings First If Any

Clean your WPC deck railing first
Deck railings can really help enhance the style of your outdoor decking and improve the safety of a decking. If you have railings around your composite deck, then start by washing them down with soapy water and a decking cleaning brush. Then, hose it off, removing any debris and cobwebs.
Wash the Composite Decking with Soapy Water

Brush your composite decking with soapy water
To clean the composite boards, mix up a bucket of warm soapy water and use a medium-to-hard brush to get into the embossed pattern of your boards.
Working in a small section at a time, about 5-meter sections to prevent any cleaner from drying out and possibly leaving a film on the deck. Then rinse clean and allow to dry.
Tips for Removing Most Kinds of Stains
Stain Type
Solution
Dust
Use a hard brush dipped in warm soapy water to remove it.
Mildew
Scrub with ordinary wood mold class agents, or bleach to rinse or wipe it directly.

Chalk Stains

In addition to the white chalk, other colors

can not be removed once the printing, you

can use a bleaching agent with hot soapy

water to scratch it.

Ice or Snow

Apply calcium chloride or rock salt, it can

melt ice or snow. Then you can use hot

soapy water to wash it.

Stain, Soil, and Dirt

Apply detergent, which contains oxalic

acid or phosphoric acid. Wiping the stain

for 10-15 minutes, you can remove stains.

Greasy and Oil-Based

Stains

Once a grease stain, please immediately

use household cleaning products with hot

soapy water to wash it.

Juice and Wine Stains

Mix the bleach stains agents and hot

soapy water to dilute the stain and then

wipe the stain.

Ink Stains

Ink stains may not be removed. Mix bleach

stains agents and hot soapy water to dilute

the stain.
Important Notes
Make sure that you regularly clean the composite wood decking in order to prevent dust accumulation or a variety of stains, otherwise, the dust may become more difficult to remove after a long period.
For some specific kinds of stains, you can clean a small part of the stains as a testing ground in order to prevent too much chromatic aberration.
Please stay away from chlorine bleach, no matter how you choose to clean your WPC composite decking as it can lead to color-fading of the decking boards. You can select oxygenated cleaners if needed.
Use a pressure washer if any stubborn stains are still showing on your decking. But you should control the water pressure under 6 bar and clean the decking from a suitable distance.

Clean wood plastic composite decking

Focused on WPC production, selling, designing and developing.
Leave us your info and get latest product quotation from our specialist.